A while ago we did a blog post to ask for your feedback regarding CERT and some potential changes. Today we are happy to announce the changes for which we got positive feedback from you:
You told us that Level 10 contained very few freelancers which made no sense. We think you are right, so we renamed it to "TOP" and assigned it to the top 0.5% of active freelancers (currently, around 200 freelancers).

Quality in services offered on PPH has increased a lot, so more established freelancers deserve a higher CERT level. To achieve this, we applied CERT levels in a relative fashion among freelancers, which, we believe, makes it fairer and more competitive for you. This means that the top 0.5% of you get assigned the TOP level badge, the next 5% get Level 5, the next 10% level 4 and so on.

We did some minor changes in the algorithm to keep it up to date.
We recently introduced a much-anticipated rating system on PeoplePerHour and we are very excited to introduce it to you. We feel that this will be a much more efficient product that will benefit all of our PPH customers in the long run. This is a summary of what the product is about and how it works taken from our CEO Xenios's blog post, which is also available for you to read on the site.  
Why did we introduce CERT?
First, let me start by saying that any ranking algorithm, in our view, is aimed at rewarding the highest quality and most relevant talent up the ranks, so they get more exposure to Buyers.
The easy and frictionless discovery of quality talent is what keeps bringing Buyers back to PPH and what sets us apart.
Before CERT, the way this worked was purely based on how much work is billed through the site, and the Buyer rating that the work has received.
However, as our marketplace grew, we realized more and more that this definition of quality is limiting. It's not incorrect per se, rather it is limiting as it doesn't factor in other things that matter a lot to Buyers. I.e. freelancers being professional and reliable, responding fast to messages, (sometimes the busier they get, the less this happens); delivering on time and avoiding things like disputes, cancellation/abandoning of work and refunds.
It turns out that how one gets to the end result is as important as getting there – at least to our Buyers. This is also a reflection of how the offline world works: the perception of the quality of the experience one receives when buying something is a combination of the quality of the product purchased, but also the 'pre' and 'after-sale' service you get.
This is what CERT aims to solve.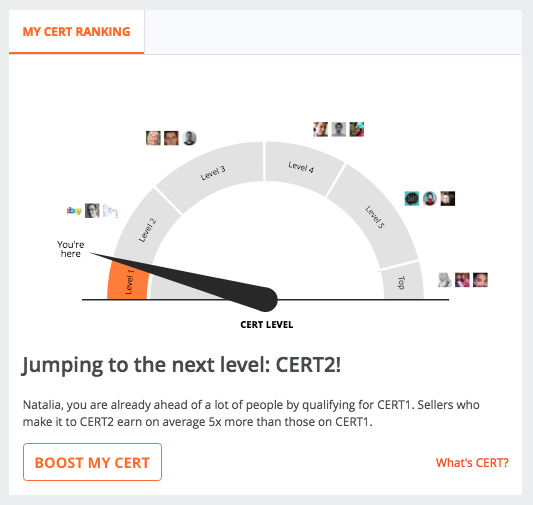 CERT is an acronym that brings together the 4 pillars that define quality for a Buyer on PPH.
In practice what this does is it takes the classic ranking score we had to date and overlays it with a quality score that's derived from the C, E & T in CERT as below.
A. Community: Community is at the heart of PPH. What the C in CERT measures is how one is engaged as a member of the community, looking after not just their own interests but those of the whole community. For example, how much one refers others to the site to help grow the community, how one is engaged in social commenting to help grade and curate great content, and how one creates great original content that is liked and shared by others on the site – be it their Portfolio, Hourlies imagery, copy, or profile completeness.
B. Engagement: The 'E' in CERT measures things such as the speed of response, timeliness of delivery, and how our users abide by the Rules of Engagement of the site. Which, in short, means being professional and staying out of trouble, avoiding disputes, refunds, and anything that creates a negative experience for the Buyer as a general rule. The Buyer is, after all, your customer and whilst the customer isn't always right, the starting ethos in any professional relationship should be to keep your customers happy.
C. Repeat usage: Retaining a customer is the ultimate metric of success for any individual or business providing a service. Freelancers who retain Buyers (for the same or a new job-alike), will not only have higher earnings (which itself boosts CERT), but will get a magnified boost to their CERT score on top of that. So one dollar, pound, or euro retained is worth more than a new one, and that is because it reflects on great service delivery.
D. Trust: Authenticity validation via linking your Facebook or LinkedIn account is a good first step, followed by getting endorsements from past employers, and good reviews on PPH from work won on the site. To jump up faster you, can import clients from outside of PPH and start working with them with Zero Commission fee.
How will this affect my ranking in practice?
Well, for starters, CERT is now a dynamic algorithm, which changes much faster and which promotes quality in a more holistic sense and not just Buyer reviews.
To stay at the top, one needs to continue billing through the site. Unlike before, the Earnings in CERT now has a decay factor. It avoids people who did really well a long time ago but are now dormant.
Conversely, CERT helps fresh new rising talent to accelerate faster and have a shot at getting to the top if they play by the rules. To reward effort, we overlay the quality score with a 'no claims' bonus, which turbocharges those who have not committed any violations for a period of time and have retained their customers. This gives them a shot at rising to the top faster.
For those who've already been successful at winning work, it means they can't rest on their laurels and need to continue doing well to stay on top. Additionally, for those who are new and haven't yet had a chance, it means it is easier for them to move up quickly by sticking to the principles of CERT.
CERT is a continuous score that works in the background. However, to make it easier for people to understand, we have broken it down into levels. Freelancers gets a badge on their profile to reveal their CERT level.
CERT 1:  You can get here without earnings by showing you are a promising prospect.

CERT 2 & 3: You must have earnings through the site.

CERT 4-5: You must have continued earnings, plus a high-quality score.

TOP CERT: Limited to the top CERT scored for the last 30 days rolling.
The CERT-o-meter