When you have funds in your PeoplePerHour Account, you can either choose to leave them there for buying additional proposal credits or even buying services yourself, or you can withdraw them to your PayPal, Payoneer* or bank account.
To withdraw funds from your wallet simply use the Withdraw Funds link you will find in your Payments section.
*Your PPH Account has 3 main currencies. GBP, EUR, and USD. A Payoneer account has a specific currency, therefore, make sure you withdraw to the correct currency. If your Payoneer account is USD and you have GBP funds you will have to convert those funds first and then withdraw them.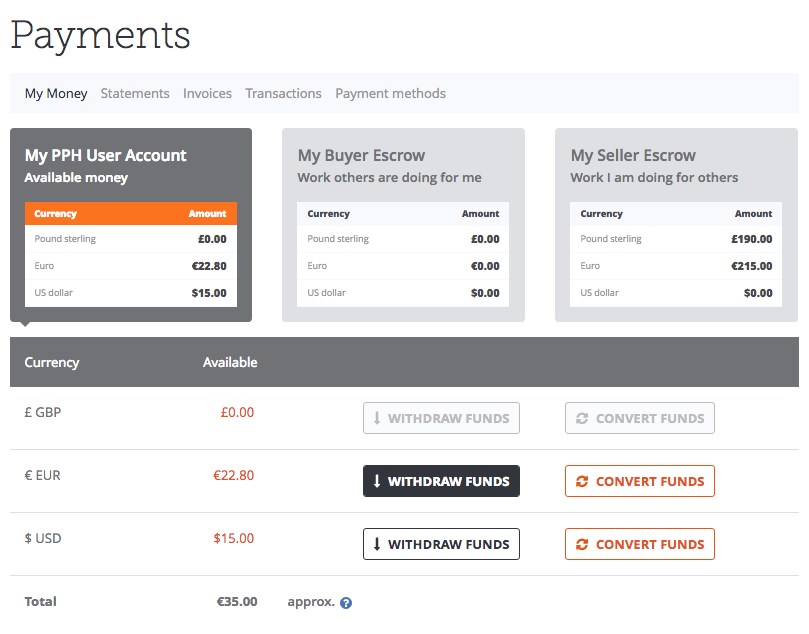 Your withdrawal will be processed within 1 working day by PeoplePerHour. The time it takes for your funds to reach your account varies, please see below :
- UK bank transfers are usually completed within 24 hours
- SEPA/ Local bank transfers can take from 1 to 3 working days to arrive
- International bank transfers can take 3 to 7 working day to arrive and Intermediate bank transfer fees may apply. Please be advised that if your country is included in the "slow-to-pay" countries list it can take a week to a month for the payment to reach your account.
- Withdrawals to Paypal and Payoneer usually take a few minutes.