Offers aren't just for "traditional" services such as proofreading or designing logos. You can offer anything you like (within our guidelines!) so if you can teach cake decorating or self-defense why not create an Offer for that!
Before you post your Offer
Remember that Offers are "express" jobs delivered within a maximum of 5 days so don't promise you can "Develop a website" or similar!
If your services normally require far longer than 5 days then think about what kind of starter package you can offer. A large percentage of Offer sales go on and lead to much larger custom projects with buyers so it is a great way to acquire new buyers.
A. Posting an offer
By clicking on Post an Offer on the header you shall be redirected to our Post an Offer page.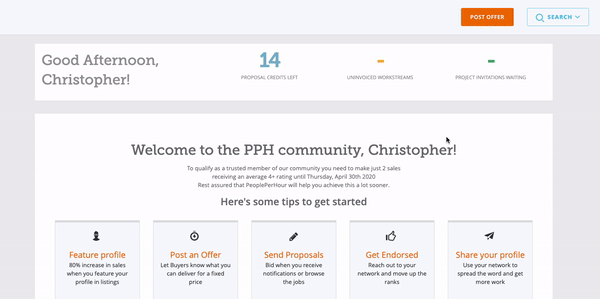 Add a detailed and clear description outlining exactly what the Buyer will receive.

Don't forget in your description to really sell yourself and highlight your USP (unique selling point). Make it clear to Buyers what is special about your service, for example, your expertise/experience (and make sure your profile is up to date), your customer service etc.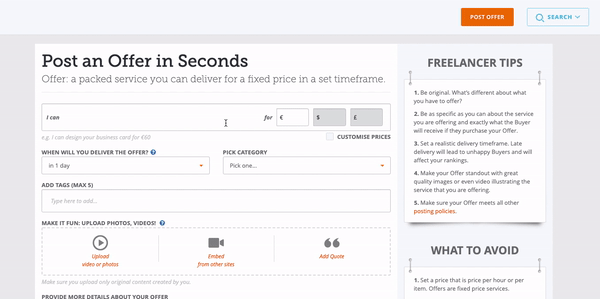 Upload some good quality, original (avoid stock images) and appropriate images that visually enhance your Offer and illustrates at a glance what service you are offering (where possible use examples of your previous work) and adheres to our

Offers posting policies

.

Make sure to specify the maximum number of days you would be able to deliver your Offers service within, once you have received your Buyer's requirements so that buyers have clear expectations when they purchase your Offer.

When you set your price bear in mind that it must be a fixed price (not per hour) for the delivery of the service and should be inclusive of any tax/ VAT applicable to you. This price is the total amount that the Buyer will pay for your Offer service upfront as a deposit in Escrow, and when you have delivered your service and raised an invoice the Buyer will confirm releasing this money to you.
Related Articles:
Still Need Help?